EMO Hannover opens with great sense of optimism
1,850 exhibitors from 42 countries will be showcasing their latest machines, solutions and services for industrial production at the world's leading trade fair for production technology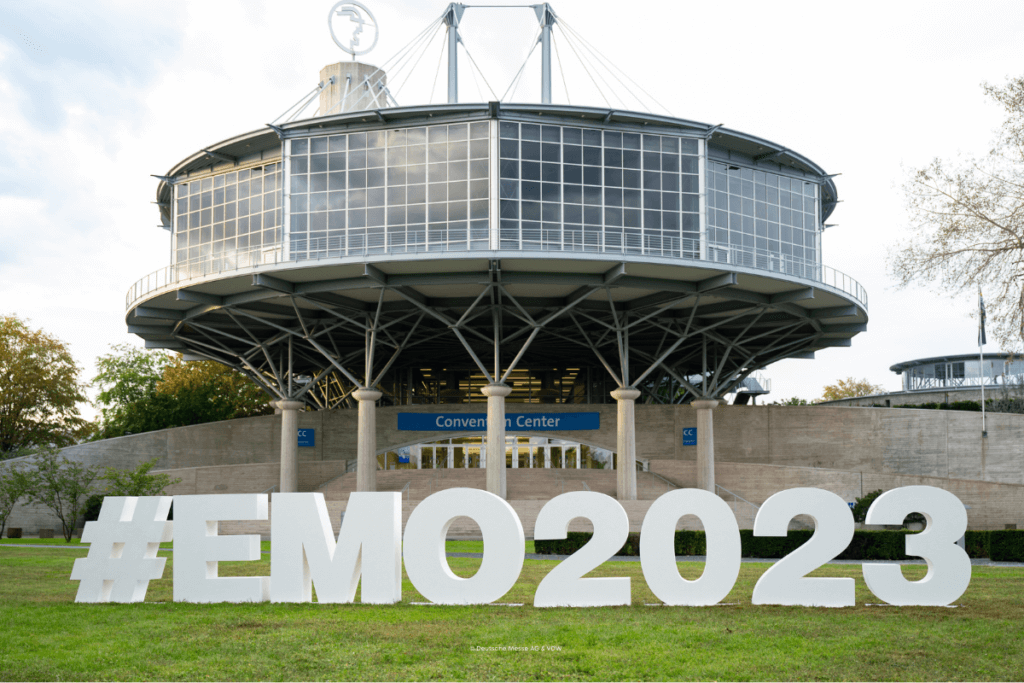 EMO Hannover officially opens its doors today after a four-year break. "Some 1,850 exhibitors from 42 countries will be showcasing their latest machines, solutions and services for industrial production at the world's leading trade fair for production technology," says Carl Martin Welcker, General Commissioner of EMO Hannover at the opening press conference. "EMO is the hub of the international industry for one week," he continues. Trade visitors from 150 countries came to Hannover for the last event.
Focus on future of production technology
Under its banner of Innovate Manufacturing, the fair serves as a key platform for all aspects of manufacturing technology. The latest machines are presented here, and technical solutions, trends and innovations are discussed. EMO Hannover thus covers the entire production technology value chain, functioning itself as a kind of "smart factory". With a strong focus on technology, dialog and networking, the fair will take a closer look at the following three megatopics: The Future of Business, The Future of Connectivity and The Future of Sustainability in Production. "The Future Insights show that production technology is not just of interest to manufacturing experts, but that it responds to the pressing problems of our time by developing new technical solutions," says Welcker.
Extensive range of offerings at EMO Hannover
The trade fair presents the entire spectrum of production technology – from production systems and tools to measuring equipment, software and controls. The sheer variety reflects the current challenges facing industrial production, including efficiency enhancement, flexibility, quality improvement, automation, electromobility, energy efficiency and the circular economy.
EMO Hannover also offers a varied supporting program featuring around 360 individual events. The highlights include a high-profile panel discussion on the topic of Sustainable Production Value Chain – How is Industry Mastering the Future? with the CEOs of DMG Mori, Samson, Siemens and EMO General Commissioner Welcker. Then there are two half-days dedicated to New Digital Work – Opportunities or Disenfranchisement? This will address numerous aspects surrounding the world of work in the future in lectures, interviews and panel discussions. The development of future markets represents a further decisive factor in determining the future of the business. Taking India as an example, one conference will highlight the current opportunities and bring together interested international parties with Indian companies.
In addition, cooperation with innovative startups is playing an ever more important role at EMO. More than 60 young companies will be presenting their products in the Startup Area in Hall 9. The EMO Startup Night (including speeddating) allows exhibitors and visitors to get to know young companies and forge new contacts. The Special Training stand of the Youth Education and Development Foundation for Mechanical Engineering in Hall 8 will be showing how it is countering the shortage of skilled workers in the metalworking professions, supporting trainers and teachers in the use of modern training methods, and demonstrating the attractiveness of the metalworking professions to young people.
Electromobility driving investment in production technology
The overall economic situation of industry worldwide is decisive in determining the success of EMO Hannover. Despite the current slump in global demand, the machine tool industry is expecting to see healthy interest in its products from various customer sectors in the medium and long term. Advancing automation, increasing digitalization, electromobility, the development of critical infrastructure and investment in renewable energies are just some of the developments that offer great potential for manufacturing technology. For 2024, economic researchers are expecting the machine tool market to recover and post a 7 percent increase. "We benefit from our customers' branching out into new fields because we supply the technology they need to develop there," points out Welcker.
The machine tool industry is particularly affected by the shift within the automotive industry towards electric drives. Dr. Michael Wittler, Managing Director at FEV Consulting, Aachen, which analyzed the opportunities and potential of e-mobility at an early stage, forecasts considerable sales potential in this area in the coming years. "We expect to see sales of battery and fuel cell vehicles grow to 85 million by 2040, representing a 75 percent market share," he says at the opening press conference. "Electric motors, power electronics, batteries and fuel cells in particular are becoming key components in this fast-growing industry. These are components that require investment in their manufacture," Wittler points out. E-mobility is a highly promising means of driving growth in manufacturing technology, but one which also reduces environmental impacts, he says. Referring to the study results, Wittler expressly encourages companies to be early adopters in this field and to develop their own product portfolio accordingly in order to benefit from the diverse opportunities arising from this emerging sector. A considerable number of manufacturers are already addressing electromobility, which is why the EMO is also including it in its supporting program in a panel discussion entitled Perspectives on E-Mobility .
"The entire EMO community is looking forward to six exciting days which will include numerous inspiring discussions with trade visitors from all over the world," concludes Welcker.