Gestalt Robotics automating industry
Start-ups are sought after. Many established companies are looking to make contact and cooperate with them and/or invest in them. Thomas Staufenbiel, one of the three founders of Gestalt Robotics GmbH in Berlin, is just such a sought-after businessman. At EMO Hannover, the company is presenting its tailor-made automation and artificial intelligence (AI) software on the start-up stand of the Federal Ministry of Economics and Technology in Hall 9.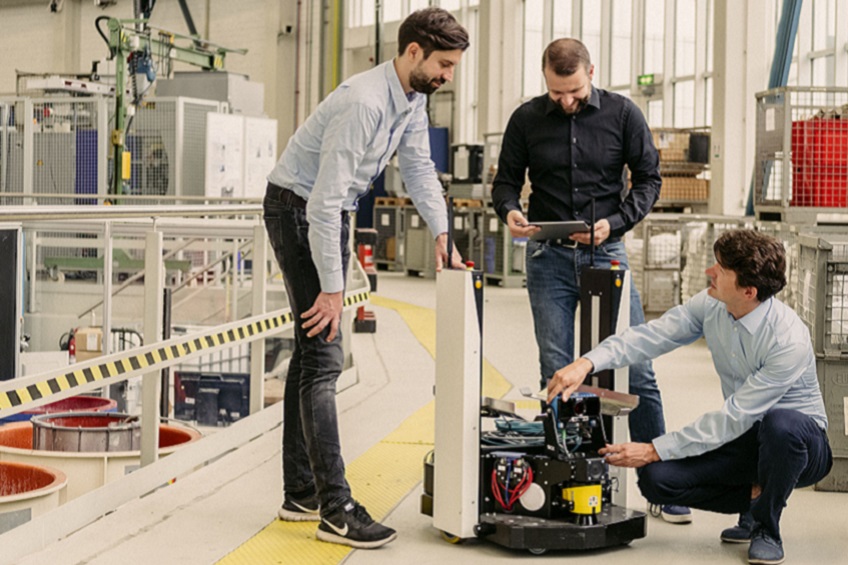 Gestalt Robotics was founded in 2016 by a rocket engineer, a robot expert and a vision expert. from left to right: Dr. Eugen Funk, Thomas Staufenbiel, Dr. Jens Lambrecht.
The software is used, for example, in industrial image processing and worker assistance as well as in autonomous transport and intelligent robot systems. All of which sounds very abstract. And so we decided to shadow Thomas Staufenbiel at
Gestalt Robotics
. A typical research project that he and ten other employees are currently working on is a worker assistance system. It is designed to facilitate assembly work by using augmented reality to inform the assemblers of the next steps and the best way of getting to them. "The aim is to support the worker and improve the quality of the product," says Staufenbiel. The final implementation of the assistance system has not yet been decided: 3D glasses or a display system. The system itself, however, is being developed as part of a research project in which such decisions are considered in detail beforehand.
Research projects provide access to established business partners
"Winning a contract to participate in a research project is not as easy as it sounds," admits Staufenbiel. "But it's worth it if we get to become part of a consortium with established players and can prove our expertise." Especially with assistance systems, it is also crucial to gain the acceptance of the people they are intended to support. Working out how to achieve this is part and parcel of such projects.
Taking part in trade fairs is another good way of raising public awareness and getting people talking about your company. The manufacturing industry is a key market for Gestalt Robotics. The company is participating in EMO Hannover 2019 to raise its profile in this field. "We're keen to establish contact with research and development managers in larger manufacturing companies and to understand the strategies of potential users of our software," says Staufenbiel, explaining the reasons for signing up for EMO Hannover. The company has already taken part in a number of trade fairs.
Gestalt Robotics was founded in 2016 by a rocket engineer, a robotics expert and a vision expert. The original idea was to develop software for mechatronic systems. Robotics was then added, including cameras and image recognition systems. "Gestalt is all about visible form, outline or appearance. A lot of what we do is concerned with perception, and so the name seemed appropriate to us," explains Staufenbiel.
The company plans to double its turnover in the current year. "There is great demand from industry at present, so we're confident of achieving our goal and, naturally, we're hoping that this growth will continue," says a self-assured Staufenbiel. The customers are mainly from the automotive sector and are robotics users or component suppliers looking to enhance their production. He does not see any major problems with personnel development at present. "We're an attractive prospect for young people because we have a broad base, and employees get to refine and develop their skills in various projects," says company-founder Staufenbiel.