Unique trade fair feeling in digital form – METAV opening today on the web
A tour of the fair just shows what is possible online. The METAV digital opens its doors at exactly 9:00 this morning after weeks of preparation by the 80 exhibitors and the METAV organiser VDW (German Machine Tool Builders' Association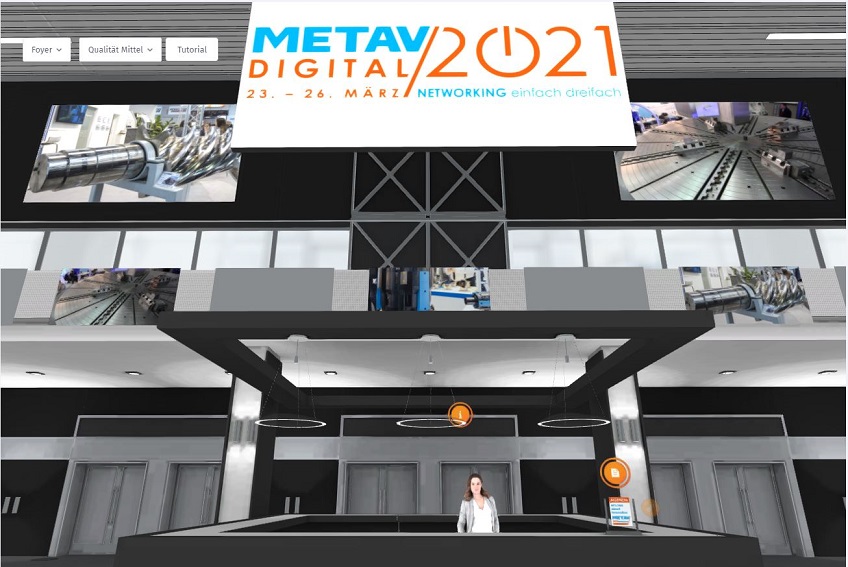 Unique trade fair feeling in digital form – METAV opening today on the web
The METAV digital opens its doors at exactly 9:00 this morning after weeks of preparation by the 80 exhibitors and the METAV organiser VDW (German Machine Tool Builders' Association). "Of course, this opening time is only symbolic, as we can be reached 24 hours a day from all over the world," says Stephanie Simon, VDW Trade Fairs Project Officer and responsible for the METAV digital. "But one of our aims here is to provide that unique trade fair feeling. Which is why we've kept the official opening."
"Unlike most online events, the METAV digital actually offers a genuine 3D experience for visitors as they walk through the halls," explains Dr Wilfried Schäfer. So let's take a look. After registering and logging in, visitors can access the fair through the entrance hall. The best way for them to find their way around is first to complete the short visitor tutorial – then nothing can go wrong. Using either the mouse or the keyboard, they then make their way intuitively through the two exhibition halls – where they will no doubt be surprised by the large number of stands, the creative design and the interesting product presentations. Or they can navigate straight to the relevant stands without first consulting the hall plan. Or, as the third option, they can visit the companies they are interested directly from the exhibitor list.
The METAV digital presents not only company profiles, but also trade fair stands – each occupying between 25 and 100 m² of exhibition space and equipped with videos, direct links and a media library. Personal communication is also possible in the form of voice-only or video calls. Visitors can register for these on the individual stands. The stands will be staffed from 9:00 in the morning until 17:00 in the afternoon for the duration of the METAV digital. The contact page lists which contacts are available, and gives their competences and contact details. All those interested can also arrange appointments directly via a calendar function. In order to use this service, visitors must first enter their business cards. A score shows how well the contact person matches the range of interests given during registration.
"This is a very different kind of trade fair visit," says Wilfried Schäfer. "We might not like the situation, but there is really no alternative at the moment. And it does have its advantages. Visitors can conduct their fair business with very little effort, find their way easily to the stands they're interested in, get additional inspiration while making their way through the halls and listen specifically and even repeatedly to the talks in the web sessions that interest them. And, of course, they can also place orders, just as they do at the METAV in Düsseldorf." The VDW expects that METAV digital will not only reach interested parties in North Rhine-Westphalia and the Benelux countries, but will also be able to reach visitors from all over Germany and neighboring markets.
Curiosity aroused? Don't just take our word for it – experience it. Register at https://metav-digital.de/en/media and see for yourself. We look forward to seeing you.
Further information and images can be found at
https://metav-digital.de/en/
You can also find this press release at:
https://metav-digital.de/en/media/unique-trade-fair-feeling-in-digital-form-metav-opening-today-on-the-web
Downloads