METAV 2018 starts under optimum macro-economic conditions – focus on Industry 4.0
Today, the METAV 2018 – 20th International Exhibition for Metalworking Technologies – opened its gates. Until Saturday, 560 exhibitors from 24 countries will be showcasing their machines, solutions and services in all areas of industrial production. "Above all, we are expecting visitors from North Rhine-Westphalia, one of the strongest economic zones in Europe, and from the bordering countries," said Dr Wilfried Schäfer, Executive Director at the METAV organiser VDW (German Machine Tool Builders' Association) on the occasion of the METAV's opening press conference.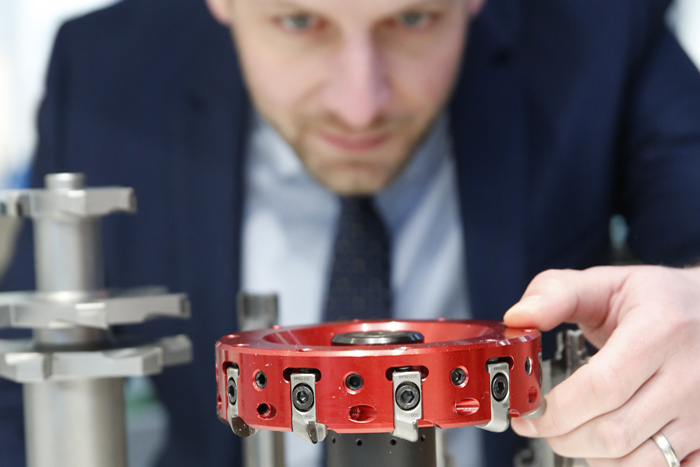 Mapal, Aalen, (Hall 14, stand D 31) shows custom tools for machining stator housings for electric motors and parts from the automotive industry.
The general macro-economic conditions for the trade fair could hardly be better. "Substantial investments are being made in Germany and Europe," reports Dr Schäfer. Growth rates of 6.8 and 5.6 per cent respectively are expected in 2018. Right at the top are important customer segments such as the manufacturing of metal products, electrical engineering and machine building. "The METAV's visitors come from precisely these industries, and want to inform themselves for buying decisions in the coming weeks and months," says Schäfer.
The METAV is focussing on the long-running topic of Industry 4.0. It pervades the presentations of the exhibitors, the numerous special shows up to the booth for recruiting young talent and the many supporting events ranging from 3D printing up to intelligent clamping technology.
Sectoral project "Connectivity for Industry 4.0" is proceeding with giant steps
The VDW is therefore using the trade fair as a platform to present the progress of the Industry Initiative for Industry 4.0. It was launched in September of last year. The objective is to develop a standard and implement it in software form in order to be able to connect different machine controllers to overriding IT systems via a common interface. OPC-UA was chosen as a standard language, which is currently spreading rapidly. It enables the specification of parameters in a predefined structure and makes numerous certified model implementations available on so-called OPC servers.
"The greatest success of our sectoral initiative so far has undoubtedly been that we have been able to establish cooperation between well-known machine tool manufacturers in which they all work as one. Now, in addition, all important controller manufacturers ranging from Beckhoff, Bosch Rexroth, Fanuc, Heidenhain and Siemens have promised their support," explained Dr Heinz-Jürgen Prokop, Chairman of the VDW, at the METAV's press conference. The strategic partnership with the providers of CNC controllers ensures that the interface will be integrated in future controller versions, and will thus be openly available in the market. According to Prokop, this means there is nothing standing in the way of nationwide use and the benefits accruing especially for small and medium-sized firms.
Why is the machine tool industry working on this issue? Manufacturers will have to cope with the digital transformation. According to a VDMA study on the platform economy, experts predict that digital platforms will play an increasingly significant role in new business models. This gives machinery manufacturers opportunities to determine the course of the platform economy themselves with clever business ideas. With an interface standard, which will considerably simplify digitalisation and make it more cost-effective, medium-sized firms will then also be able to exploit the potential of such platforms more easily themselves.
Customers expect open interfaces
"It is obvious that companies will not be able to shut themselves off from this trend, if they want to remain competitive in the future as well," says Dr Prokop. However, networking in terms of Industry 4.0 cannot succeed if companies take their own directions. Medium-sized firms would be simply overextended here. Even large and gigantic companies would fail here in the long run if they only build upon proprietary, closed, ecosystems. Ultimately, customers justifiably expect open interfaces and standardised specifications through which machines can be inserted arbitrarily into existing infrastructures and ecosystems.
Since VDW made the initiative public, Chiron, DMG Mori, Emag, Grob, Heller, Liebherr-Verzahntechnik, Trumpf and United Grinding Group have been working together in the core team. They are all contributing resources in the form of personnel and test systems. The project team is thus covering a representative cross-section of metal-cutting and sheet metal processing technologies. In addition, the Institute for Control Engineering of Machine Tools and Manufacturing Units (ISW) at the University of Stuttgart has been a cooperation partner of the VDW's initiative since the middle of November, 2017.
International coordination is to ensure broad use of the interface
Furthermore, the networking is taking place both across industries, for example with robotics and rubber and plastic machines, as well as internationally with the USA, Japan and soon also with China. All three countries have equal interest in a common standard. The USA has already developed MTConnect for monitoring the status of production systems. "Meaningful functions and basic approaches should be adopted, because we don't have to reinvent the wheel," says Prokop. As another step towards internationalisation, the VDW's sectoral initiative aims to form a joint working group with the OPC Foundation, in order to achieve a so-called companion specification. That is an internationally recognised standard for the planned interface. Work on this is being intensively progressed.
"We have created all the conditions so that the planned interface standard can be used broadly," say Prokop in conclusion. Now, it is necessary to continue working rapidly and submit specific modules. An initial model implementation will soon be implemented by the partner ISW. And the first implementations of the controller manufacturers for data exchange with machine tools are to be presented in the autumn.