Mobilising maintenance through digitalisation
Digitalisation is increasingly making inroads into maintenance, too. A few years ago the word maintenance immediately evoked an image of a man wearing blue overalls: today, however, it is increasingly characterised by digital services and mobile devices such as tablets and data glasses. Exhibitors will be presenting examples of these at EMO Hannover 2019.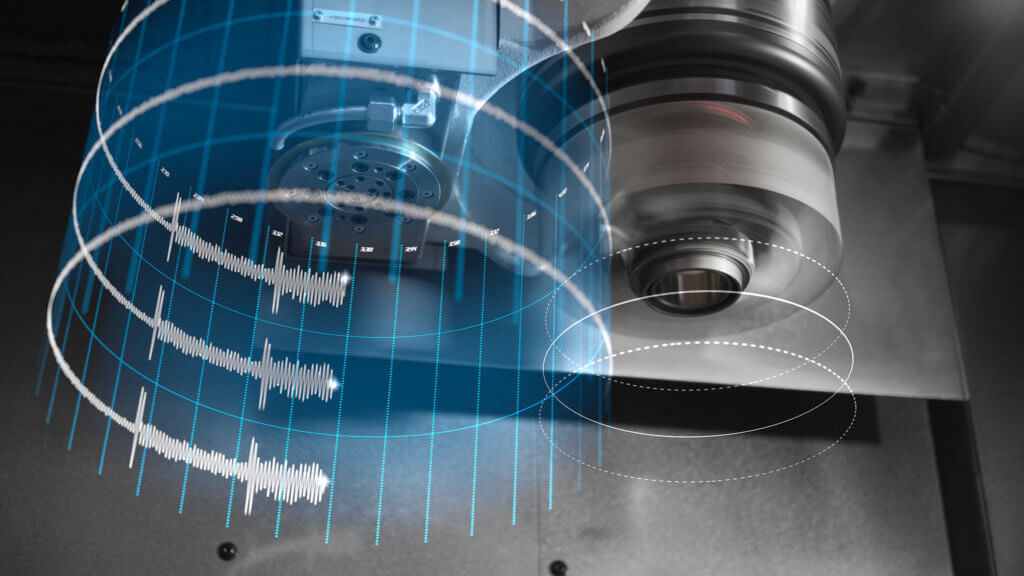 Mobile, digitalised maintenance makes use of a whole range of sensor and production data that is generated to assess machine status.
The Smart Factory and the related digitalisation offer wide-ranging potential for long-term and predictive maintenance. But what are the benefits for companies? And what are the prerequisites for ensuring that the data necessary for planning, processing and documenting maintenance measures is exchanged reliably?
What is certain is that maintenance staff are by definition production service pro-viders – even if the job description has changed considerably in recent years. "Today, maintenance staff are no longer called in only when there is a mechanical, hydraulic or pneumatic problem that has brought a machine to a standstill," explains Peter Strohm, Global Service Project Manager at Emag Systems GmbH. "Today it's crucial for maintenance technicians to be fully familiar with the hardware and software of their machines in order to plan repairs in advance and procure any required materials. They increasingly have to use digital services to help them monitor the condition of the machines. Before purchasing a machine, companies should make sure that the manufacturer offers service solutions that are tailored to their individual requirements. Emag responds flexibly here: "We offer customers maintenance provided by our own specialists, but we also support customers who want to carry out their own maintenance. Basically, however, it is important for every solution to be future-proof with regard to digitalisation," says Strohm.
Management tool for structuring plant maintenance
But what is the most effective way for companies to structure and implement their maintenance processes? A new EU standard provides a useful management tool here: DIN EN 17007:2017 structures and describes the typical maintenance processes of a company in a universally applicable form. These processes serve as a reference, e.g. for companies coordinating their own processes with the services of service providers or for comparing themselves with other companies. The standard also suggests suitable key figures for measuring the individual maintenance processes.
DIN EN 17007:2017 is based on a French standard and its scope has been considerably expanded in cooperation with various other European countries. In Germany, maintenance managers from various manufacturing and process industries were involved in the development. One of the leading figures in the project is Prof. Dr. Lennart Brumby, head of the Service Engineering Department at the Baden-Wuerttemberg Cooperative State University in Mannheim.
Reference processes for key maintenance tasks
"In the networked world of work in Industry 4.0, it will be important not only to coordinate the information systems, but also to mesh the respective business processes with one another. As a trailblazer for Industry 4.0, maintenance needs reference processes for the key tasks, both for the core processes of reactive and corrective maintenance as well as for the wide range of support processes. Only then can networking succeed," he said, emphasising the need for a structured and comparative approach.
"Like all standards, this standard is not mandatory. However, it is advisable for all companies to adapt their own maintenance processes to the DIN EN 17007:2017 processes. Only then will they be ready for the world of Industry 4.0," says Brumby, explaining the relevance. Regarding the scope of the standard, he says: "DIN EN 17007:2017 not only describes the classic core maintenance processes, such as repair and preventive maintenance, but also includes the many supporting processes without which maintenance would not function. The multitude of links and information flows between these processes are also covered. Because, generally, it is the coordination and networking of processes that offers the greatest potential for optimisation."
Predicting axis and spindle failure
Companies are orienting their daily operations to the new standard. "At Emag, we have been working for some time on a product that facilitates wear analysis of the machine axes and spindles using a vibration sensor. Based on a defined dry run of the machine, we will in future be able to use an algorithm to evaluate which machine components are likely to fail. This gives the maintenance engineer optimum support for his repair and maintenance planning," says expert Peter Strohm, citing one example. The aim of such preventive and predictive maintenance is to eliminate downtimes in the future. The Emag system has already proven itself in practice; it is currently being successfully tested by pilot customers.
Another example is a service app from Emag. "This makes it easy for maintenance staff to get in touch with our Service department. The app scans a QR code on new Emag machines and recognises the machine type and location. This then allows the appropriate service staff member to be contacted. Old machines are retrofitted free of charge – and there is no age limit," explains Strohm. Customers can then choose to contact the specialists by telephone, e-mail or live video chat.
The analysis know-how for the extensive sensor and production data is of strategic importance for Emag. Accordingly, in September the Emag Group acquired a minority stake in anacision, a specialist data analysis company based in Karlsruhe, Germany. The two partners are now jointly developing software solutions for the machine tool industry – in the area of predictive maintenance, for example. "We regard our minority interest in anacision as the start of a far-reaching strategic development partnership for Industry 4.0," says Markus Heßbrüggen, CEO of the Emag Group.
Companies must train up their employees
But today's experts not only have to maintain and optimise machines and automation systems, they must also ensure that the different systems communicate with each other. Furthermore, they must ensure that is possible to conduct data analyses across different interfaces. This should ultimately help identify further potential for the selection of suitable efficiency measures.
The interface between IT and maintenance in particular is an important corner-stone of modern maintenance. "This is also a major challenge for the companies because they have to ensure that their employees are appropriately qualified in this complex environment," says Dr. Jens Reichel, Head of Technical Services & Energy at thyssenkrupp Steel Europe AG in Duisburg. This is sometimes difficult, particularly in view of the shortage of good IT specialists on the labour market.
Ensuring data security for all parties
For Reichel, data security is another important issue in digitalised, mobile maintenance. Smart services today often involve production companies feeding production data into the Cloud via an interface. Appropriate background analyses are then carried out in the Cloud: these provide an insight into what is happening in the plant, but can also be used to issue alerts of possible failures. "Many production companies are reluctant to give third parties access to their data. For one thing, it allows conclusions to be drawn about process parameters which could reveal company know-how. And it also opens up access channels to the production processes, which could lead to abuse," Reichel explains.
To counteract this, dedicated filters – firewalls – are created for the open channels. Companies use these to make intrusion as difficult as possible. A second way is to open up data access only to the extent required by the case at hand. This means filtering available data in advance to reduce it to the appropriate level for the intended analysis. In this case, employees must know which security procedures need to be installed at the appropriate interfaces. "Basically, it's important to realize that maintenance is an area of corporate expertise which is worth protecting," says Reichel, emphasising the significance of the topic.
Machine tool manufacturer Emag guarantees data and access security by granting access to defined machine control data via a separate evaluation PC. "This writes the data to a local server at the customer's premises. The customer can then decide whether and which data should be synchronised with a cloud server. This means that the machine control system is not directly connected to the Internet and the customer can then choose himself how he wants his data to be handled," explains project manager Peter Strohm.
Competitive advantage through precisely tailored condition monitoring
However, maintenance also offers potential for greater efficiency. At thyssenkrupp Steel, experts are currently refining condition monitoring systems which will then allow them to be coupled with data from process control, process automation systems and quality management. "The aim is to be able to draw conclusions regarding optimum operation of the system, i.e. optimised either for maximum service life or, depending on the parts involved, for the maximum throughput or the best possible quality," Reichel explains.
What is certain is that maintenance is a very complex field that offers a lot of potential for increasing efficiency, but that also holds many challenges. The new DIN EN 17007:2017 standard will reflect this and provide practical guidance. Brumby emphasises: "Maintenance processes have never been described so comprehensively before. Previous descriptions only ever focussed on individual aspects of maintenance. But what was often ignored was the networking of the processes – which is where the real complexity of maintenance lies."
Author: Annedore Bose-Munde, specialist journalist from Erfurt