Dry deep drawing heralds new era in classic sheet metal forming
A new era is dawning in classic sheet metal forming. Deep drawing processes, especially for smaller components, will be able to function without lubricants in the future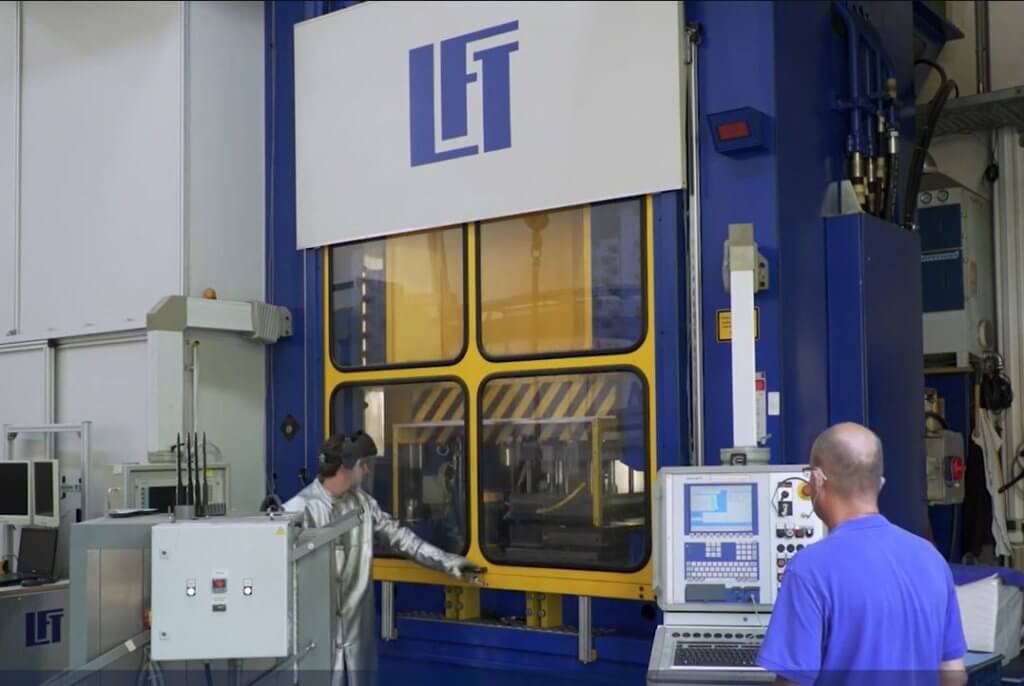 A new era is dawning in classic sheet metal forming. Deep drawing processes, especially for smaller components, will be able to function without lubricants in the future. "This saves up to 20 percent in energy and resources. And it is much more environmentally friendly, if only because there is no longer any need for lubricants containing mineral oil," sums up Prof. Hinnerk Hagenah from the Institute of Manufacturing Technology at Friedrich-Alexander-Universität Erlangen-Nürnberg, and presenter of the next Let's Talk Science session at 08:30 on November 30, 2022. "What is more, the process time is also reduced by 10 percent."
Lubricant systems containing mineral oil are usually used during the forming of semi-finished sheet metal products in order to minimize friction and wear during the forming process. However, the desire for efficient and sustainable use of resources, and political requirements regarding environmental protection are providing an incentive to avoid the use of lubricants completely. The novel process known as dry deep drawing eliminates the need for calibration and cleaning. Companies can save themselves the need for (in some cases) huge washing facilities used for removing the lubricant film after forming. It is not necessary to retool the line for dry deep drawing; the solution lies in innovative tool modifications.
The presentation will explain how lubricant-free forming processes are made possible by custom-made changes to the tool surface. Different surface technologies will be presented and compared with regard to their operational behavior, their potential and fields of application. Interested companies, especially those working with 0.5 to 2 mm thick sheets, can discuss their own process conditions with the researchers.
Find out now all about this environmentally friendly and cost-effective process. Listen to the talk and discuss your specific circumstances with the speakers at Let's Talk Science, the monthly online seminar in the run-up to EMO Hannover 2023, at 8:30 am on November 30, 2022.
Presenters
Prof. Hinnerk Hagenah, Deputy Head of the Institute of Manufacturing Technology (LFT) at Friedrich-Alexander-Universität Erlangen-Nürnberg
Stephan Schirdewahn, Research Associate and Head of the Sheet Metal Forming Research Group at LFT
Photos
Image 1: Dry deep drawing at LFT Erlangen, source: LFT, FAU Erlangen-Nürnberg
Image 2: Prof. Hinnerk Hagenah, Deputy Head of the Institute of Manufactur-ing Technology (LFT) at Friedrich-Alexander Universität Erlangen-Nürnberg. Source: LFT, FAU Erlangen-Nürnberg
Image 3: Stephan Schirdewahn, Head of the Sheet Metal Forming Research Group at LFT, source: LFT, FAU Erlangen-Nürnberg
Author: Gerda Kneifel, VDW
Registration
https://emo-hannover.com/lets-talk-science
Previous webinars
26.10.2022 Rethinking products – with 3-dimensional electronics
https://emo-hannover.de/event/produkte-neu-denken-dank-dreidimensionaler-elektronik
28.09.2022 Guide: Implementing AI models sustainably
https://emo-hannover.de/event/ki-modelle-nachhaltig-implementieren
31.08.2022 Finally! Making AI widely usable
https://emo-hannover.de/event/künstliche-intelligenz-in-breite-nutzbar-machen
27.07.2022 Turning SMEs into sovereign data holders
https://emo-hannover.de/event/euprogigant-kmu-datenhaltern
You can find texts and pictures for EMO Hannover online:
www.emo-hannover.com/press-releases
www.emo-hannover.com/image-database
www.emo-hannover.com/registration
Downloads
Documents
Photos