EMO Hannover 2019 in the starting blocks!
The starting shot has been fired for EMO Hannover 2019. The invitation and registration documents for the world's leading metalworking trade fair are currently being sent out to around 60 countries. "We contact almost every company in the world that does international business and that has some connection with the manufacture of machine tools, tools, components, software and automation for industrial production," says Carl Martin Welcker, General Commissioner of EMO Hannover 2019. From 16 to 21 September 2019, EMO Hannover will once again be providing a platform for innovative solutions, industrial applications and future technologies in the field of metalworking. "It includes the entire international production technology value chain, covering everything from cut-to-length machines to cylinder saws. That's exactly what makes it so attractive," said Welcker, describing the advantages of the event.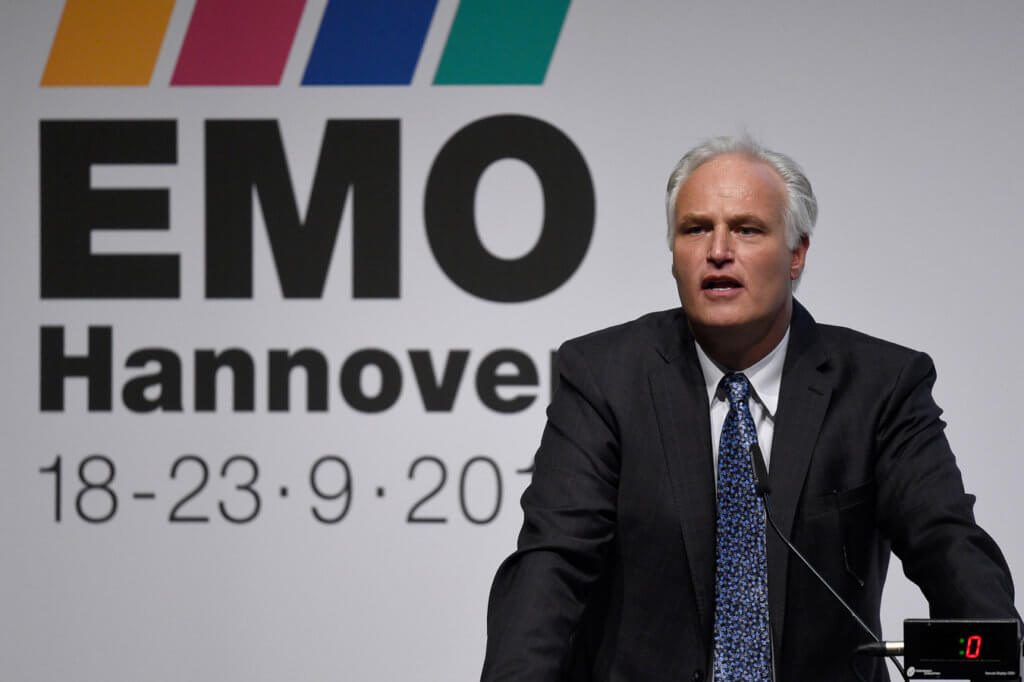 Since 2011, Carl Martin Welcker, CEO and President of Alfred H. Schütte GmbH in Cologne, has been representing the EMO Hannover as its General Commissioner, and at many public appearances in Germany and abroad has been raising awareness of the world's premier trade fair for the field of metal-working.
Around 2,200 exhibitors are expected, well over half of them from outside Germany. According to the organisers, EMO exhibitors have responded well to the early bird discount, which runs until October 15 this year. "Not only does it provide planning security, it's also a great offer – especially for companies with large stands," explained Welcker.
Smart technologies driving production
The theme of EMO Hannover 2019 will be "Smart technologies driving tomorrow's production!" This shifts the focus onto the development and implementa-tion of new Industry 4.0 functions. The special IoT in Production show, for example, will be presenting a range of solutions – from individual machines up to cloud-based systems. The theme will also be highlighted in a new area for individual control technology, software and automation technology exhibitors.
EMO Hannover – traditionally the largest innovation platform in the industry – will, however, also be showcasing the latest developments in the full range of metalworking machining processes, from additive manufacturing through to metal cutting. "Beyond networking and software-controlled production processes, the industry is still very much about metalworking hardware; work-pieces still have to be processed in the conventional way to create an end product. EMO Hannover will also be showcasing the full spectrum of equipment," explained Welcker. It is aimed at international customers from the entire metalworking and processing industry such as the automotive and parts supply, mechanical and plant engineering, electrical and aerospace industries, plus fields such as medical technology and many others. Hanover will be the hotspot for all of these in September 2019.
In addition to the wide range of exhibitors, EMO Hannover also offers a wealth of special events, forums and conferences staged by the EMO organiser VDW (Verein Deutscher Werkzeugmaschinenfabriken – German Machine Tool Builders' Association), its business partners and numerous exhibitors. At the last EMO Hannover, the online calendar featured over 600 additional events. The overall programme makes EMO Hannover an important networking and knowledge transfer get-together for production experts from all over the world.
"We're delighted to be hosting the world's largest trade fair for production technology again in September 2019. We're expecting another mega-event that will boost business and that the industry will be talking about for a long time to come," concluded EMO General Commissioner Welcker.