German machine tool industry on course for record year
Orders received by the German machine tool industry in the third quarter of 2018 were 2 per cent down on the same period last year. Orders from Germany fell by 1 per cent whereas those from abroad were down by 2 per cent. Orders increased by 7 per cent in the first nine months of the year. Domestic orders grew by 20 per cent, while foreign orders rose by 1 per cent.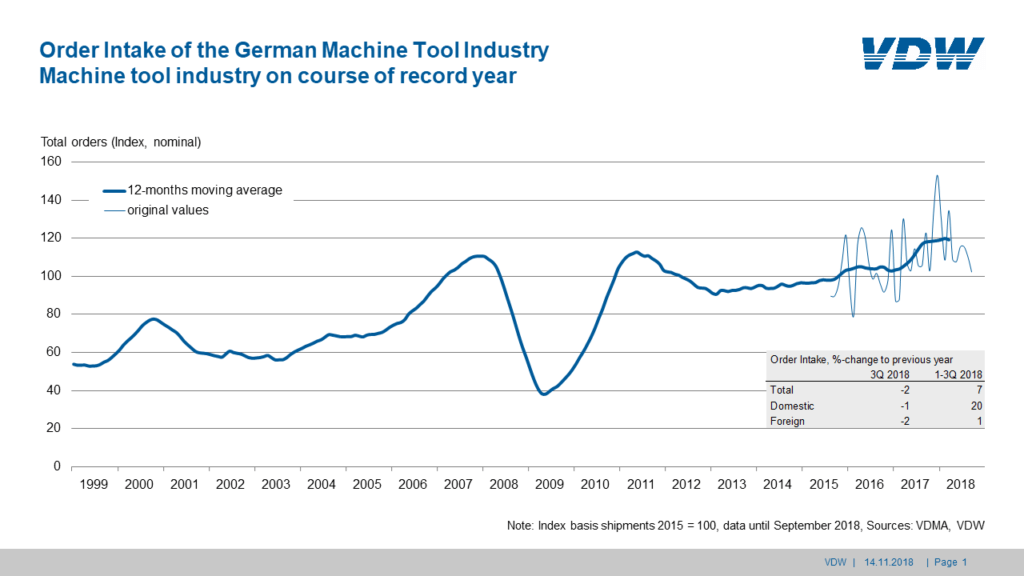 Order intake German machine tool industry Q3 / 2018
"Orders and production are set to make 2018 a record-breaking year," said Dr. Wilfried Schäfer, Executive Director of the VDW (German Machine Tool Builders' Association) in Frankfurt am Main. "Nevertheless, for the first time in more than a year we are currently seeing a slight downturn in orders. The boom is gradually coming to an end and demand is normalising," Schäfer continued. On the one hand, the global economy is slowing, with growth having stalled in the markets outside the euro zone. On the other hand, the strong domestic demand in the second half of 2017, as evidenced at the EMO Hannover, is now leading to a fall in total order levels. And finally, global developments – including the spread of trade conflicts, increasing protectionism, rising oil prices, high inflation in various emerging markets, unchecked debt etc. – are unsettling customers, especially small and medium-sized enterprises.
Employment and capacity utilisation continuing to soar
Accounting for almost 73,700 employees in August of this year, the sector workforce remains at record levels. At 95 per cent, there was almost full capacity utilisation in October 2018. The last time such high levels were posted was in July 2012. "Bottlenecks in employees, capacity and materials continue to be the challenges most frequently mentioned by companies," explained Schäfer.
Production at record levels – and higher than expectations
Overall, sales rose by 13 per cent in the first nine months, according to the association's survey. "It will not be possible to sustain this double-digit growth over the year because production skyrocketed at the end of 2017," said Schäfer. However, the strong growth has prompted the association to raise its production forecast by a further percentage point. The VDW now expects production to grow by 8 per cent to over EUR 17 billion in 2018. However, Schäfer specifically drew attention to the renewed divergence in the performance of the different sectors and of individual companies. Metal cutting equipment, which boomed last year, is now growing much more slowly. Forming equipment, on the other hand, is again boosting growth, supported by project business.