Innovation Made in Germany – Opportunities for start-ups at the METAV 2018
For the first time, there will be a shared stand for start-ups at the METAV 2018, the 20th International Exhibition for Metalworking Technologies to be held in Düsseldorf from 20 to 24 February 2018. "We already had some very good feedback from this at the last EMO in Hanover," says Dr. Wilfried Schäfer, Executive Director at the METAV's organiser, the VDW (German Machine Tool Builders' Association), Frankfurt am Main. "The newcomers to the market really appreciate the fact that their investment risk from participating in a fair is limited to the shared stand, and that in this way they can introduce themselves quickly and simply to customers and established companies in the sector," adds Dr. Schäfer.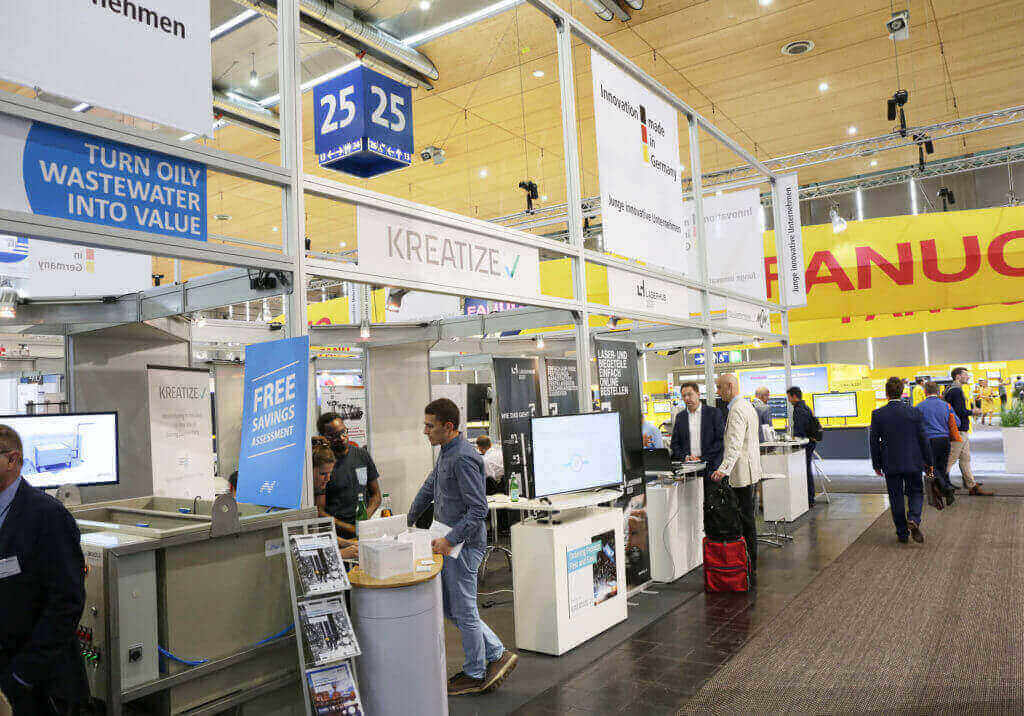 The participation in the BMWi's share stand helps young companies to gain market success.
In conjunction with the German Federal Ministry for Economic Affairs and Energy (BMWi), the METAV 2018 offers innovative German companies an affordable option for participating in a shared stand. The aim is to provide firms with comprehensive support in marketing their new products or innovative processes, and in particular to promote exports. The ministry invests a good 2.5 million euros each year in this programme.
Participation pays off
The money is well spent. Stylianos Chiotellis from Factor-E-Analytics GmbH in Berlin is enthusiastic: "With its well-structured concept, the support package enables even young companies to participate in a major trade fair, and to very rapidly generate plenty of international customer contacts as well." His company offers software solutions enabling production machines to be networked irrespective of their make and age on the basis of power consumption, and digital data to be retrieved. Factor-E-Analytics will be one of the exhibitors at the METAV 2018.
Martin Plutz from Oculavis GmbH in Aachen, a vendor of products for worldwide networking by means of mobile terminals like smart glasses, tablets or smartphones, is no less laudatory. "We've already participated in an international trade fair at manageable costs with excellent results. It was an enormous success, which is why we shall also be taking part in the start-up stand at the METAV."
Vital preconditions for participating in the BMWi's shared stand are legal autonomy, younger than ten years, balance sheet total max. 10 million euros, and a range of new products and process-engineering innovations, or the improvement of products, processes and services. 60 per cent of the stand rental and the stand erection costs are borne by the organisers for first-time participants. Minimised organisational outlay and the positive image of the motto Innovations Made in Germany are additional motivating factors.