Intelligent software solutions master metrological tasks
The challenges entailed by the omnipresent Industry 4.0 hype are immense: integration into flexible manufacturing processes, assuring process stability and production quality. Metrological technology has a particularly exacting remit in this context: fewer measurements in the measuring room – more measurements at the line itself. Solutions of this kind increasingly have to be integrated into a self-organising production environment. Stefan Staab, Product Manager KMG (Coordinate Measuring Machines) at Wenzel Group GmbH & Co. KG, Wiesthal, explains what role modern-day metrological technology can and must play here.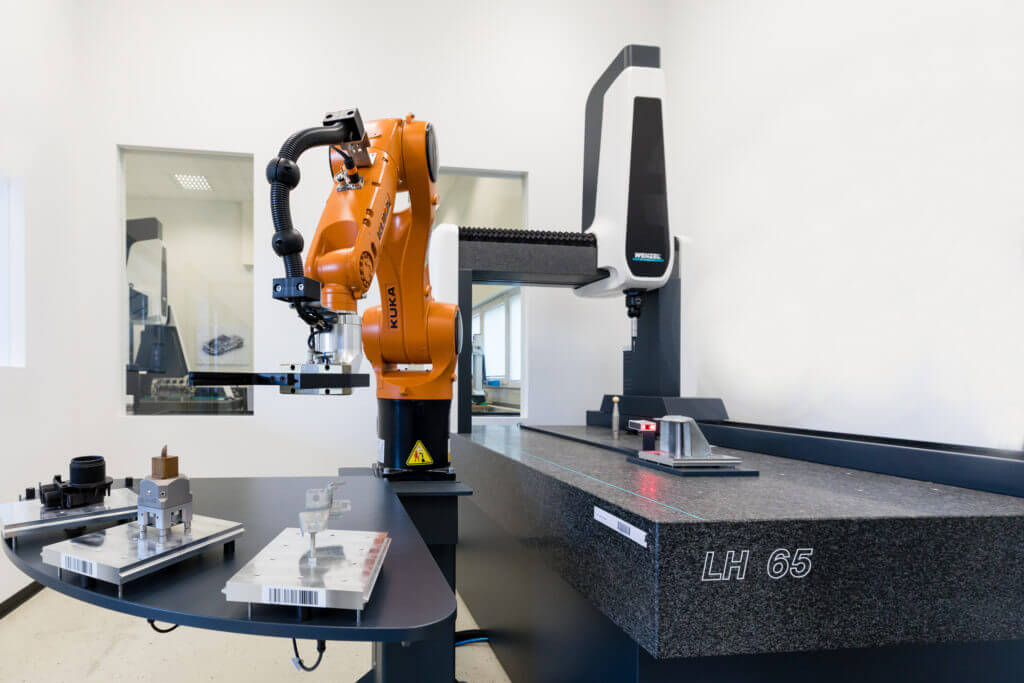 Line-integrated coordinate measuring machine with automated pick-and-place capability using an industrial robot.
What contribution can modern-day metrological technology make towards product optimisation in a networked manufacturing environment?
Stefan Staab: Close-to-production measurements featuring the requisite measuring-process capability enable results to be incorporated directly in the process. For example, measures can be initiated at upstream production steps, and downstream production steps adapted to suit the conditions and preconditions involved.
How smart is present-day metrological and testing technology – is there practicable data access via web portals or using smartphone/mobile-phone apps?
Stefan Staab: As one of the major innovators in metrological technology, we are continually design-enhancing our measuring and testing technologies. In the context of Industry 4.0, too, we are steadily expanding our product range, and demonstrating in specific applications how manufacturing companies can benefit from the ongoing digital transformation. With our smart Intelligent Machine Interface (IMI) software package, the measuring instruments are equipped with a new level of intelligence. This collects and analyses performance-related information, and enables the measuring machines to be remote-controlled. So the ongoing status of all measuring machines is visible at a glance. A simple double-click calls up more detailed information at any time. That can be done both from the workplace and by using mobile devices like smartphones or tablets. This access and this sensitive data transfer are subject to extremely stringent security requirements and conditions, all of which serves to ensure that no data can be unexpectedly viewed and utilised by unauthorised persons.
This software solution offers extensive options for controlling and analysing the metrological tasks involved, the workpieces being measured, and the machines employed for this purpose, thus providing information for the user that is now available for life to the workpiece and the measuring machine as a digital twin, and enables it to be intelligently and flexibly used.
What role do simulation technologies play for process optimisation?
Stefan Staab: In the context of Industry 4.0, which for us is more than a buzzword, a huge array of different simulation technologies are gaining steadily in perceived importance. We regard it as vital to generate real benefits for our users from the technologies we develop. Right from the start, we analysed what Industry 4.0 specifically means for our products and processes.
What are you expecting in this area from the METAV 2018 in Düsseldorf – what will you be exhibiting there?
Stefan Staab: The METAV is for us a key element in our trade fair planning. We are once again expecting numerous trade visitors who are specifically interested in measuring and testing technologies, and are looking forward to new contacts and instructive conversations. We shall be showcasing our high-performance bridge machines in the LH series as a line-integrated solution with automated part detection and automated pick-and-place robots. We shall also be exhibiting another bridge machine from the LH series in conjunction with the revolutionary Revo-Multisensor 5-axis measuring system from Renishaw. This solution offers excellent measuring flexibility without any loss in accuracy, and achieves significantly shorter throughput times compared to conventional measuring systems. Other highlights at the fair will include our Intelligent Machine Interface software package and the new generation of our successful Core high-speed scanning system, which has now been performatively enhanced, offers automatic environment protection, and is ideally suited for automation. In addition, we have expanded our successful Exact computer tomograph series for measuring and testing complex internal and external structures to include a recently developed system that sets new standards in terms of performance and measuring volume.