Reducing CO2 levels with artificial intelligence
Start-ups are in great demand at EMO Hannover 2019. The world's leading trade fair for metalworking has further increased its commitment to young companies by spotlighting the sector as a lighthouse project. Eight companies have already registered for the joint "Junge innovative Unternehmen" (Young Innovative Companies) stand (A30, Hall 9), which is sponsored by the German Federal Ministry for Economic Affairs and Energy (BMWi) and enables German start-ups to gain trade fair experience at minimum effort or cost. A further 37 young entrepreneurs will be presenting their innovations in the Young Tech Enterprises and VDMA Startup Machine areas (also on Stand A30 in Hall 9). The list of nominees for the BMWi Digital Innovations competition for start-ups has now been issued, and there is now great excitement surrounding the awards ceremony.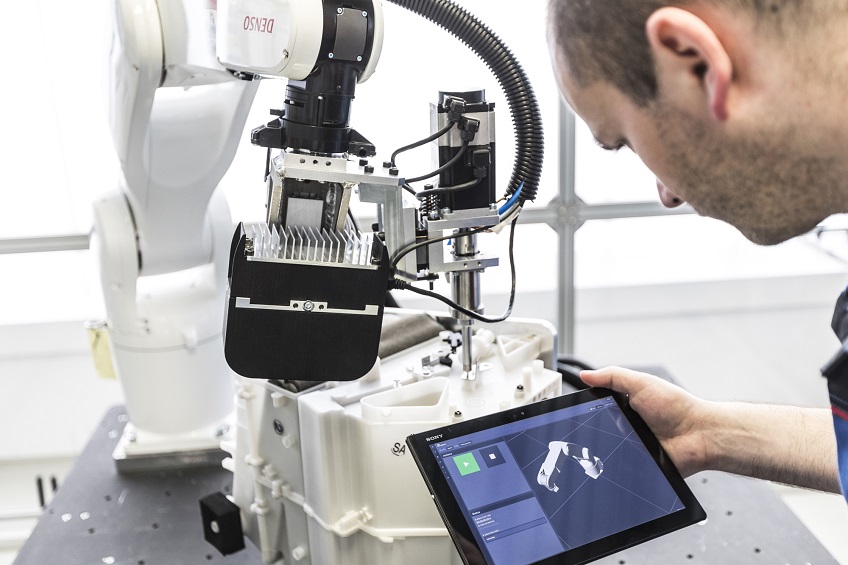 Innovative solution in use: screwdriving with drag&bot on the tablet.
"Companies are like ships," says Sascha Schubert, who is the founder of three companies and is contributing to the Young Tech Enterprises show at EMO Hannover in his capacity as vice chairman of the German Startups Association. "The bigger they are, the more rigidly they hold to their course. But if they do decide to change tack, their size becomes a disadvantage. Young companies with less well-established routines are more flexible and dynamic in this case." Start-ups challenge the competition with their fresh thinking and force established players out of their comfort zone. Yet at the same time, cooperation can help both the start-ups as well as the traditional manufacturers improve their position in the global competition. "If established companies and start-ups do collaborate – or, to remain with the shipping imagery, if a supertanker can enlist the services of a fast-moving tender – they can benefit each other mutually," says Schubert.
Start-ups and established manufacturers joining forces
This is the precise aim of the Start-up Area at EMO Hannover. It includes the BMWi joint stand, the Young Tech Enterprises and the VDMA Startup Machine, which enables young mechanical engineering companies to take part in trade fairs at short notice. "This gives exhibitors and visitors direct access to numerous creative, young companies. The start-ups, for their part, gain direct access to more than 2,000 potential partners," explains Dr. Wilfried Schäfer, Executive Director of the VDW (Verein Deutscher Werkzeugmaschinenfabriken – German Machine Tool Builders' Association) and organiser of EMO Hannover. "This makes EMO Hannover the ideal platform for industrial start-ups seeking to network with established companies. The fair provides exhibition space, a forum, matchmaking events and pitches for start-ups and thus enables direct communication between founders, investors, partners and sponsors," Schäfer continues.
Rapid programming of robots
drag and bot GmbH from Stuttgart is a start-up company that has decided to participate in the Young Tech Enterprises programme on the basis of its positive experience at trade fairs. Spun-off in 2017 from the Fraunhofer Institute for Manufacturing Engineering and Automation IPA, its 15 employees are currently working on software designed to enable simple and manufacturer-independent programming of industrial robots. The young team behind the software's intuitive, smartphone app-like user interface is enabling medium-sized companies to venture into robot-based automation. Potential applications here include repetitive and less challenging tasks such as loading and unloading machines, or simple yet tedious handling tasks. Such applications quickly pay for themselves. The use of a robot relieves the strain on employees who can then be deployed in more challenging task areas. The development of in-house expertise in the field of robotics not only gives production flexibility to medium-sized companies, it also enables them to react dynamically to change and reduce their dependence on external service providers. It can even make it cost-effective to automate processes involving small quantities and high numbers of variants.
"From talking to customers we know that the loading and unloading of machines are important engineering applications. We've had many such enquiries from the metals industry," says Jonathan Sauter, in charge of Business Development and Sales at drag and bot. "And so we came to realise a while ago that it would be good for us to come to EMO Hannover." The decision was made easier by the package offered by Young Tech Enterprises, which Sauter had got to know at the Hannover Messe: "We've been exhibiting in Hanover for three years, and in 2018 we took part in the Young Tech Enterprises area. The stands have a cool design and there are so many new developments featured there. This, in turn, has a positive effect on media coverage and visitor awareness levels. Overall, it's a great format for us."
Joint stand helps in trade fair planning
Gerotor GmbH from Puchheim near Munich was encouraged for similar reasons to participate in the joint Junge innovative Unternehmen stand, which is specially tailored to meet the needs of German start-ups. "We exhibited at EMO Hannover in 2017 and were more than satisfied with the outcome. We even won the special prize for energy efficiency in the machine market," explains Marcel Werner, co-founder of Gerotor and now responsible for Business Development. Werner sees the trade fair as unmissable, given the special dynamics in the field of machine tools and Gerotor's target market of machine and plant construction. "EMO Hannover is the world's leading trade fair and as such is crucial for us." However, it would cost far too much time and effort for the small team to have its own stand at the trade fair, which is why Gerotor decided to take part in a joint stand this time, says Werner. "We get a great stand, but there is less work involved and we have less to worry about. That's a major factor for start-ups."
Saving energy and "cleaning" power
On the technical side, things are currently going well for the young entrepreneurs, who will be presenting a highly topical aspect at EMO Hannover: reducing CO2 levels in the production process. Werner: "We founded Gerotor in 2015. We were four seasoned business partners, each with ten to 15 years of management experience in the international automotive and supplier business. Together we came up with the idea of transferring the Kers brake energy recovery technology used in Formula 1 to industrial production." Instead of converting electrical energy into heat, or feeding it uneconomically back into the power grid, an innovative flywheel storage system now holds the energy in the DC intermediate circuit of the machine and thus makes it usable. Power consumption can be reduced by up to 60 per cent, and the CO2 production footprint significantly improved.
However, the goal of the company, which now has 20 employees, is not only to help improve energy efficiency, but also to kill several birds with one stone. Medium-sized companies working close to their connected load limit can use the improved peak load management to expand their machine park. Power failures in production are bridged by the flywheel energy storage system which, with its storage time of up to 15 seconds, can bridge typical episodes of mains flicker. It can also help produce higher-quality current by cushioning harmonics and reactive power and smoothing the sine wave of the current: "Cleaned electricity is a 'waste' product of our storage system, but one which also benefits users. We can achieve all this with a purely mechanical system which uses no chemicals. Its manufacture and provision are also greener than those of many other technologies." This means that customers can quickly see a return on their investment, promises Werner: "Machine manufacturers who incorporate our load management and recuperation system from the outset can save on their own peripherals. A new machine with downsized peripheral components pays for itself even quicker; simply adding on a storage system as an optional package would pay for itself in roughly three years."
The start-up company is currently conducting research and development work on the use of artificial intelligence together with the University of Stuttgart, Fraunhofer IPA and trial partners in industry. The aim is to use power profiles to identify optimum machine output levels in order to ensure maximum energy efficiency even without external control commands. Differences in the power profiles of identical machines with the same production programme could then yield information on maintenance requirements, for example. "This is another reason why we are looking forward to EMO Hannover. By spotlighting OPC UA and umati, the event is focussing on two exciting initiatives for machine data evaluation," says Werner.
An exciting platform for start-ups
Everyone is unanimous that EMO Hannover will once again be an exciting platform for start-ups this year. Schäfer: "The trade fair meets the needs of company founders on various levels – with the joint BMWi stand, Young Tech Enterprises and the VDMA Startup Machine. At relatively little cost and effort, young teams can gain experience in taking part in a trade fair, move towards professionalising their company and meet exhibitors from all over the world." Sauter has made great promises for the drag and bot stand, and is also full of anticipation: "We're bringing our coolest demonstrator ever to the fair!"
List of nominees for the BMWi Founder Competition Digital Innovation
There is great anticipation ahead of the award ceremony of the Digital Innovations start-up competition which is being held for the first time at EMO Hannover – from 17:00 on 17 September. 252 start-up ideas had been submitted by 31 March 2019. These ranged from data analysis for M&A investors and an automatically controlled indoor greenhouse through to digital innovations in the healthcare sector. Up to six ideas will receive main prizes of 32,000 euros each from a jury of experts, and up to 15 others will win further cash prizes of 7,000 euros each. In addition to the regular competition, a special prize for Digital Innovations In Production is being awarded for the first time at EMO Hannover, with prize money of 10,000 euros. The following new business ideas have been nominated by the jury:
Aigora (data-protected training data sets for AI-based medical applications); Augmented Robotics (smartphone control of commercially available toys for playing interactive augmented reality games); plus10® – Darwin (self-learning cycle time optimisation for automated production systems); edon – electronic donations (donation plug-in for payment systems in online shops and tool for charity live streams); Energy Robotics (software for autonomous mobile robots for remote inspection of infrastructures in the oil and gas industry); etalytics (AI-based energy management for industrial companies: Monitoring, modelling, simulation, forecasting and optimisation); GAIA Indoor Gardening (automatically controlled indoor greenhouse for vegetable cultivation); HEA2R (audio-based assistance system for noisy industrial areas); HEDERA (digital solutions for sustainability assessment and support for sustainable development financing); MergerSpot (data analysis for SMEs: provision of quantitative and qualitative information at market and company level); Mindable Health (therapeutic app for people with anxiety disorders); OCELL (forestry aerial photography by private pilots using multispectral sensors and automated data analysis); outsmart.ai (self-learning automation of repetitive business processes); Pattarina (app to transfer patterns directly from a mobile phone to fabrics); PerAGraft (customised blood vessel prostheses for patients with aortic aneurysm (bulging of the aorta)); Qbound (access management for applications, cloud services and IoT devices): secure access based on software-defined perimeter and blockchain technology); SAM (Self-learning Assistance systems for Machine operators – combining human experience with machine learning); sentin (automatic detection of faults in visual and image-based inspection procedures based on AI technologies); Sooqua (software for predictive maintenance of water networks and industrial pipelines); SprayPatternator (measuring device for determining the liquid distribution of nozzle sprays on tool and component surfaces); StudySmarter (intelligent learning platform with automatically created learning structure including mind maps and learning plans).
Author: Dr. Stefan Schwaneck, VDW
Size: around 12,683 characters including blanks
[/vc_column_text][/vc_column][/vc_row]