Focus on Automation
The main focus at METAV digital, the industry event for production technology from 23 to 26 March 2021, will be on precision tools and processing machines. Besides machining technologies, the spotlight will also be on automation solutions designed to raise the efficiency levels in production.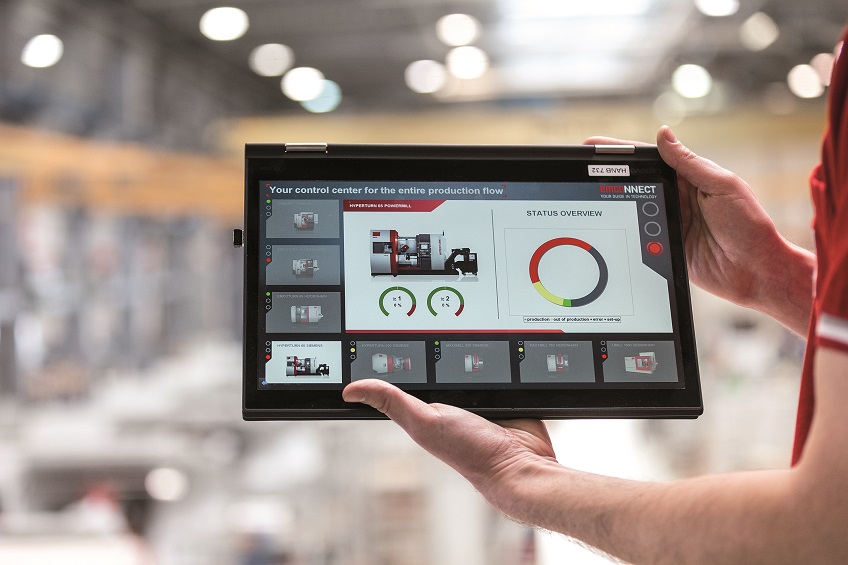 The EMCONNECT digital process assistant provides connectivity for optimal workflows and increased productivity. Photo: EMCO GmbH
Automation is considered a decisive 'enabler' for greater competitiveness, productivity and production optimisation. Automation solutions are increasingly finding their way onto factory shopfloors and manufacturing plants, and not only since the arrival of Industry 4.0. For more than 40 years now, precision tool manufacturers, machine tool suppliers and numerous other companies, organisations and universities with a manufacturing background have been using METAV as a platform where production experts get together to compare notes – this year as a genuine interactive 3D experience.
Innovative ways to reduce production costs
Interlocking is set to play a crucial role for Paul Horn GmbH at METAV digital. The focus is on tools for bevel gear cutting as well as for the precision deburring of gears. "Other innovations in the fields of high-feed milling, high-gloss machining, grooving, profile turning and shaping will also be presented," announces Horn Press Spokesman and Head of Communications, Christian Thiele.
Robotics, automation and digitalisation are on the rise. They are useful additions in many areas and help reduce locational disadvantages in comparison to low-wage countries. "Horn has worked closely with the Kistler Group to refine a globally unique solution for real-time tool monitoring. The innovative PTS system is ideal for use in turning operations," explains Thiele. "Alternative measurement methods are less effective here because of the small deviations." The solution requires no intervention in the CNC control. The application is machine-independent and takes up only a small amount of space in the machine. Use of the PTS lowers production costs and raises production capacities.
Automation for machine tools
"Digitalisation of machine tools is being talked about by everyone in the industry – we're constantly refining it, making it less complicated and more accessible for users," reports Dr Stefan Hansch, CEO of Emco GmbH. A successful example is Evva, a manufacturer of high-quality locking systems, whose production Emco helped digitalise with a milling machine. The new production system demanded both a high degree of flexibility for productive special production, and the ability to produce series parts efficiently. In addition to the machine tool itself, key elements in this project were the flexible software platform Emconnect and a complete automation package.
Emco has recently expanded its successful MMV series. The 5-axis moving column machining centres are available with extended traverse paths (X= 4200 / 5200 / 6200 mm) and thus meet the increased demand in this area. The systems can be used for the complete machining of large and heavy parts in a single clamping – for workpieces up to 8,000 kg. The automation options of the Umill series of universal machining centres represent a further highlight. Customised solutions are available for almost all variants of certain processing machines: there is a two-level linear pallet storage system, for example, which is designed to optimise productivity. Or efficient and flexibly adaptable automation solutions for the smaller Umill models, the compact dimensions, short set-up and makeready times and simple operation of which are particularly impressive. These solutions are also available for Emco lathes.
"In these challenging times, METAV digital offers us a secure platform for communicating with all interested parties and customers," says the appreciative CEO of the Hallein-based machine tool manufacturer in Austria. "It doesn't replace face-to-face contact, of course, but it's an excellent alternative right now and we're happy to use it."
World firsts at the METAV digital
"At this year's METAV, we'll be presenting a number of world firsts from our new Neologiq campaign," says Erich Timons, CTO / Technical Director and Member of the Executive Board at tool specialist Iscar Germany GmbH in Ettlingen, providing some initial insights. "These include solutions for turning, grooving, drilling and milling. There will also be a number of innovative digital tools to discover." More generally, tools offering extremely high productivity will also be on show. These include tools which incorporate sensor technology. "Iscar has developed tools that require no set-up time. Furthermore, we offer tools in all product ranges that are ideally suited for high-performance cutting," continues Timons. And what are the latest developments with regard to the future? "Many companies are currently struggling with smaller batch sizes. Issues such as machine set-up times are attracting more attention as a result."
Modular robotics for flexible solutions
"Integrative solutions with end-to-end connectivity and extensive automation have become even more important for manufacturing companies working under corona conditions," explains Prof. Dirk Biermann from TU Dortmund University. It is essential to network people, machines and companies if overall increases in productivity and sustainability are to be obtained right now. "The development of interface standards is therefore crucial for achieving this within a reasonable space of time," says the head of the Institute of Machining Technology (ISF) and member of the WGP (German Academic Association for Production Technology). "Furthermore, there are some interesting developments that allow secure processing and analysis of sensitive data locally. Intelligent edge systems can use these to provide data protection of AI-based applications in the end device."
Robotics and automation offer an extremely diverse range of possibilities that can be configured cost-effectively as standardised modules for specific applications, for example. Modular robot systems in particular are ideal for creating flexible solutions, which are now gaining in importance. Under the banner of "Researching for the factory of the future", TU Dortmund University has set up various interdisciplinary projects aimed at exploring the various challenges facing industrial production. Research projects such as the "Adaptive Intelligence of Factories in a Dynamic and Complex Environment" research group or the "Availability of Information through Analysis under Resource Constraints" collaborative research centre are exploring fundamental ideas that can be put into practice within the framework of industrial partnerships. And there are new solutions for special tasks, such as [Tool]prep integrated cutting edge preparation for tool grinding machines. "The current limitations mean that we now have some catching up to do in terms of getting to grips with the latest production developments," says Dirk Biermann, summing up. "METAV digital represents an excellent opportunity for this."
Author: Dag Heidecker, daxTR – Text und Redaktion, Wermelskirchen
(Size: around 7,600 characters incl. blanks)